Simple. Streamlined. Configurable.
Simpology is an end-to-end loan origination platform that provides unparalleled opportunities for efficiency and productivity.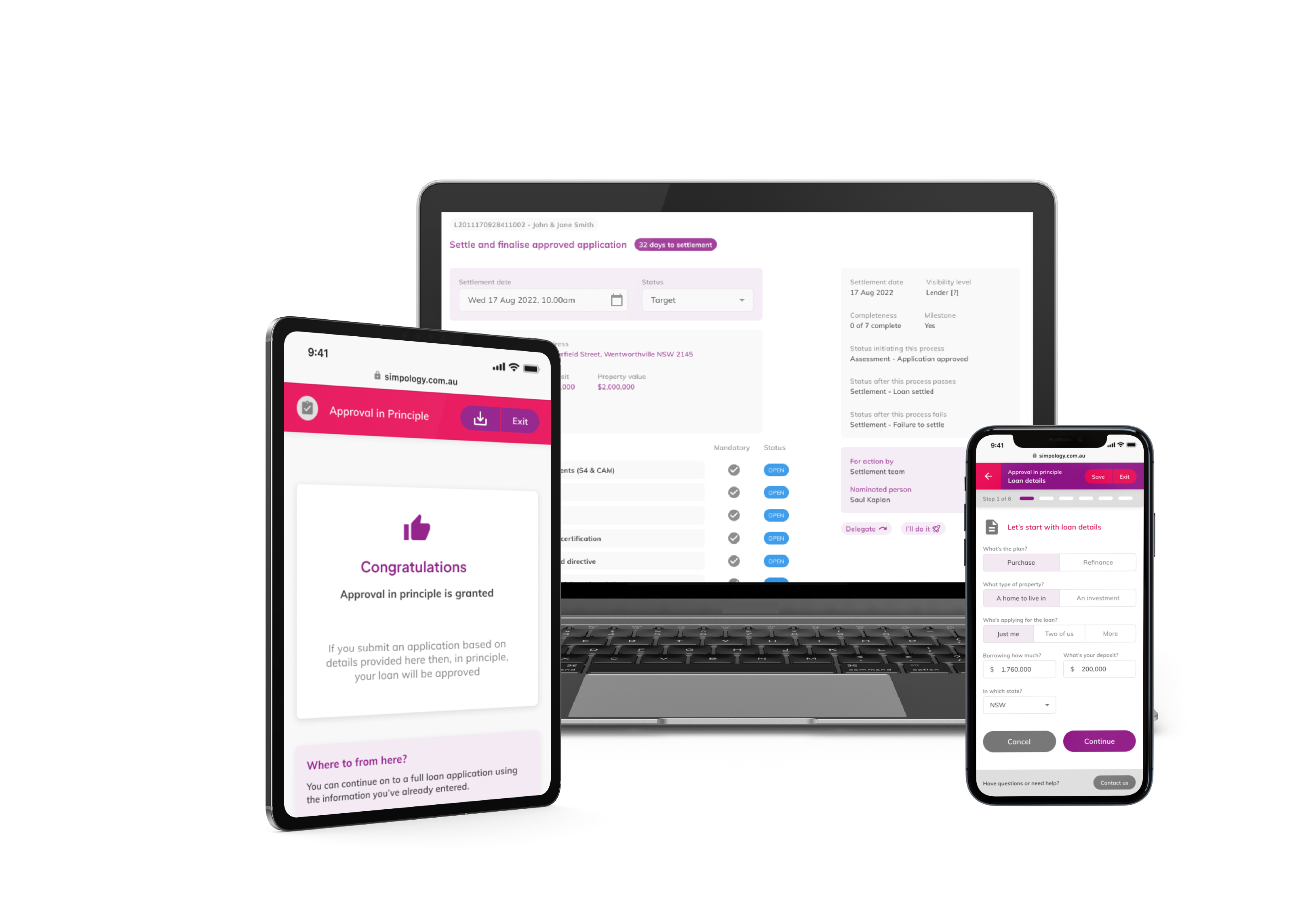 Trusted by Australia's leading lenders
Our powerful loan
application ecosystem is highly
configurable and scalable

Streamline your lending processes.



Design origination journeys to cater for all networks and origination.

Digitise workflows for convenience and efficiencies, while ensuring compliance.

Empower your teams and partners, and delight customers.
A stress-free
mortgage process for all
Best-in-class lending technology

Power your network to work together efficiently, automate manual processes, and use configured logic to reduce your time to decision.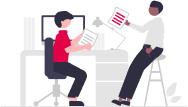 Reduce manual rework for your team and network, while delivering convenient and satisfying customer experiences.

Our security approach focuses on security governance, risk management and compliance.
This includes encryption at rest and in transit, network security and server hardening, administrative access control, system monitoring, logging and alerting, plus more.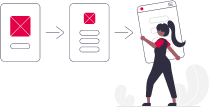 Use our multi-journey, any-device ecosystem to engage with your audiences in the most convenient and targeted way.

Control how your team originate with standardised workflows and processes.
Take the guess work out of origination and protect your network with guaranteed compliance.
Self managed + customisable
Define and deploy your ideal journeys, engine and decisioning logic, and workflow configurations – and have complete control over updating when you need to.
Integrates
seamlessly
with your partner
systems via API
Our solutions
to power your orginations
Omni
Workflows and
task management
A single unifying dashboard that allows you to:
Configure your workflows, tasks, teams and responsibilities for every action from lodgement through to fulfilment.

Use smart tools and convenient interfaces to help your teams complete assessment activities, and ensure compliance and quality outcomes.

Dynamic logic-driven checklists and supporting documents upload functionality, including consumer-facing digital upload.
Loanapp
Loan application and lodgement
Digitise your application experience to make things easier for your users, and to deliver qualified credit-critical data to your assessment workflows.
Our digital lodgement platform provides a fully self-managed and customisable solution, with benefits like:
Built-in lender specific validation, including application rules and serviceability.

Seamless integrations into your first-party or aggregator CRMs.

Electronic lodgement directly to lender loan origination systems or continue with Simpology Omni workflows.

No double handling of data. Data is simply enhanced as the application progresses.
Build any number of consumer-DIY journeys to enable digital consumer engagement with your brand 

Journeys for DIY, and to support first-party origination activities.

New-to-bank journeys (e.g. approval in principle, apply, refi).

Existing customer nurture journeys (e.g. variations).

Secure, with the ability to integrate with existing customer data.

Mobile-first, desktop enabled.
Full swagger of APIs for your subscribers to publish your data securely to partners and to manage subscription rights.

Configurable engines to power your ‍origination journeys and workflows, which can also be made available via secure APIs to internal systems and external ‍partners.
Products Engine to securely define and manage products, rates, fees and features.

Serviceability Engine to configure and maintain serviceability logic and metrics.

Policy and Decisioning Engine to define and manage credit policy and decisioning logic to be run against application and third-party data.

Supporting Document engine to define document collection and verification requirements.
Use Simpology digital widgets to embed ready-made, third-party workflows, with great user controls over service triggers, re-sets, notifications, reminders and outcomes. 

Secure, quick and convenient integrations to power your journeys and processes with source of truth data sets to qualify or auto-complete workflows. 

Embed integrations in any or all of your experiences and workflows, with third-party services, or existing internal data sources.
Secure consumer/broker portals
Deliver convenience, security and transparency to your networks.

Brandable Digital Portals for secure communications with customers and partners on any device.
Ditch your excels and digitise your serviceability tools.

Integrated with your own business rules engine, or the Simpology serviceability engine, your calculator is always compliant and up to date.

Ensure accurate results by any party that is representing your brand.

No more headaches of updating your logic throughout your networks.

Provide APIs for your partners to call your calculator from within their own systems, eliminating rework.
Products and serviceability as a service
Subscribe to source of truth lender logic to use in your own CRM, experiences or workflows.

Know that you are using data that is accurate, up to date as published by the lender themselves. 

Full swagger of APIs available for:

products as a service

serviceability as a service.
Simpology is a powerful loan application ecosystem that radically reduces time to decision.
Simpology. All rights reserved.